Fazer Marianne Chocolate Filled Mint Candies 220g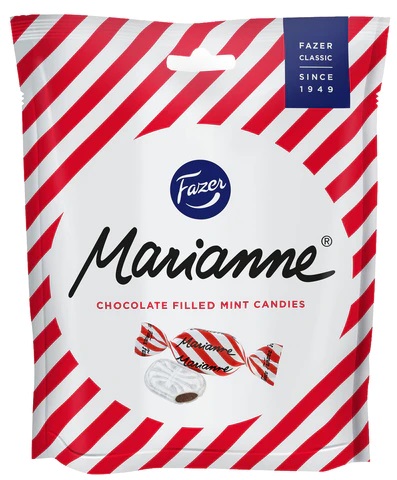 Product Code:

6410803642019

Weight: 0.22 kg.
Bought more 947 once

Available in stock
Features
Information about product manufacturer
Manufacturer

Fazer

Manufacture country

Finland
Product description
Fazer Marianne Chocolate Mint 220g 

Ingredients :

Sugar, glucose syrup, cocoa mass, vegetable fat (palm, shea), cocoa butter, flavors, emulsifier (SOYA lecithin). 

MAY CONTAIN MILK. In addition to cocoa butter, chocolate contains other vegetable fats.

Allergens :

Contain Soybeans 

Nutritional content per 100 g

Energy 1863 kJ / 444 kcal

Fat 11 g

of which 6.

8 g saturated

Carbohydrates 82 g

of which sugars 70 g

Protein 1.7 g

Salt 0.02 g 

 .