Lacto Seven Chew 50 table.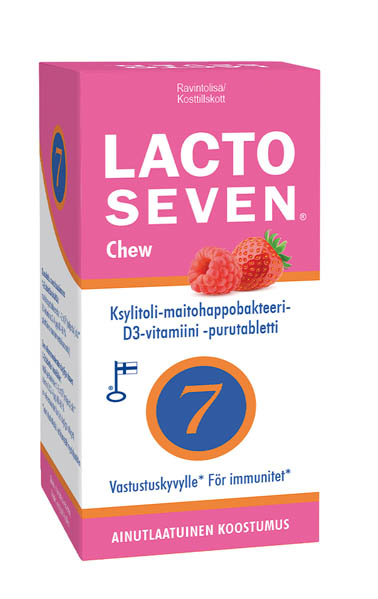 Product Code:

6410530035740

Weight: 0.05 kg.
Bought more 26 once
Available in stock
Features
Information about product manufacturer
Manufacturer

Vitabalans Oy

Manufacture country

Finland
Product description
Lacto Seven Chew 

It is estimated that there are up to 1.5 kg of microbes in the human gut. Most intestinal microbes are bacteria that are inhabited in the gut by hundreds or even thousands of different species. The intestinal bacteria modify and develop from birth to a couple of years of age. After that, the composition of the intestinal microbiota is quite permanent and very individual, with diet and antibiotic treatment changing the composition the most. In a healthy intestinal microbiota, there is a balance with no bacteria that disturb the balance.

LACTO SEVEN CHEW -chewable tablets contain seven different freeze-dried, natural strains of lactic acid bacteria (including Lactobacillus and Bifidobacterium strains) and vitamin D3, which strengthens resistance. The taste is strawberry-raspberry, which tastes good for the whole family. The tablet is sweetened with xylitol.

Unique protection against bacteria

Lacto Seven's lactic acid bacteria have a special Bio-Support ™ protection, in which the bacteria are surrounded by a peptide-carbohydrate mixture. Thanks to the protection, the bacteria can withstand the acidity of the stomach and remain alive and functional all the way to the intestines. In the gut, bacteria attach to the gut wall and multiply. 

The dietary supplement is not a substitute for a varied and balanced diet or a healthy lifestyle. 

Use 

Use Lacto Seven Chew tablets daily or as a regimen. The strawberry-raspberry-flavored chewable tablet is suitable for the whole family.  

Composition 

The daily dose of 1-2 tablets contains: 

1-2 billion cfu of live lactic acid bacteria *

Lactobacillus acidophilus

Lactobacillus plantarum

Lactobacillus rhamnosus

Lactobacillus casei

Lactobacillus reuteri

Bifidobacterium longum

Streptococcus thermophilus

2-4 μg of vitamin D3

Ingredients


Sweetener (xylitol), lactic acid bacterial preparation [maltodextrin, antioxidant (ascorbic acid)], filler (hydroxypropylcellulose), surface treatment agent (magnesium salts of fatty acids), strawberry and raspberry flavors, colecalciferol.

Contains small residues of milk and soy.