Glucosamine for cartilages/joints 750mg 120 pills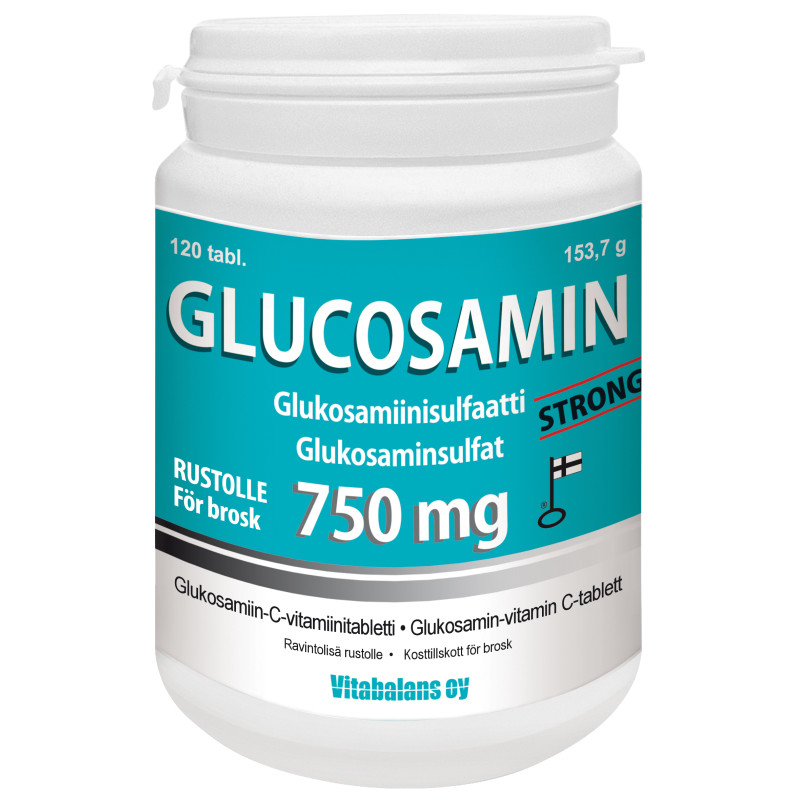 Product Code:

6410530034811

Weight: 0.19 kg.
Bought more 350 once
Available in stock
Features
Information about product manufacturer
Manufacturer

Vitabalans Oy

Manufacture country

Finland
Product description
Glucosamine for cartilages/joints 750mg 120pills. In joints, cartilage acts as a shock absorber between two bones. As we get older, the cartilage tissue becomes thinner and brittle, and the ammount joint fluid decreases, causing stiffness of the joint, for example. The cartilage tissue consists of cartilage cells and various cartilage proteins. Glucosamine is a basic building block for cartilage protein and joint fluid.
Ingredients: Glucosamine sulphate potassium chloride (crustacean), fillers (cellulose, hydroxypropyl cellulose), L-ascorbic acid, surface treatment agents (polydecstrose, hydroxypropyl methylcellulose, polyethylene glycol, magnesium salts of fatty acids), anti-clamation agent (silica), colour (titanium dioxide).
Dosage: 
For adults, 1-2 tablets a day swallowed with water. If necessary, the tablet can be halved. The recommended daily dose should not be exceeded.
A dietary supplement is no substitute for a varied and balanced diet or healthy lifestyle. Keep out of reach of children.

Number of active substances / 1-2 tablets:

Glucosamine sulphate 750-1500 mg,
- of which glucosamine 600-1200 mg.
Vitamin C 50-100 mg.
Not for children, not pregnant people, not for breastfeeding women.
Country of manufacture: Finland