Product Code: 7610400089388
Copy
Lindt Excellence Fig Dark Chocolate 100g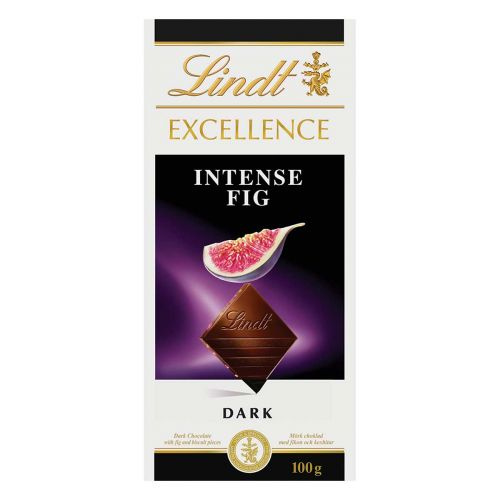 Weight: 0.11 kg.

Available in stock more than 50 products
Features
Information about product manufacturer
Manufacture country

Switzerland
Product description
Excellence Fig dark chocolate bar 100g

Ingredients :

sugar, cocoa mass, fig preparation 7% (sugar, fig puree 31%, lemon pulp, OAT fiber, gelling agent (pectin), aroma), cocoa butter, anhydrous MILK fat, biscuit pieces 3% (WHEAT flour, sugar, vegetable fat (sunflower, rapeseed), anhydrous MILK fat, LACTOSE , MILK protein, salt, BARLEY malt extract, raising agent (sodium bicarbonate), emulsifier (sunflower lecithin), antioxidant (extract rich in tocopherol)), emulsifier (SOYA lecithin), aromas.

 

May contain HAZELNUTS, ALMONDS, other NUTS. Dark chocolate contains at least 48% cocoa.

Allergens :

Contain Wheat Barley Soybeans Cocoa Oats Milk Lactose Cereals and products containing gluten

Nutritional content from 100 g

Energy 2171 kJ / 521 kcal

Fat 30 g

of which saturated 18 g

Carbohydrates 53 g

of which sugars 50 g

Protein 5.

8 g

Salt 0.1 g 

.