Product Code: 4004148017179
Скопировать
Salus Floravita Iron 250ml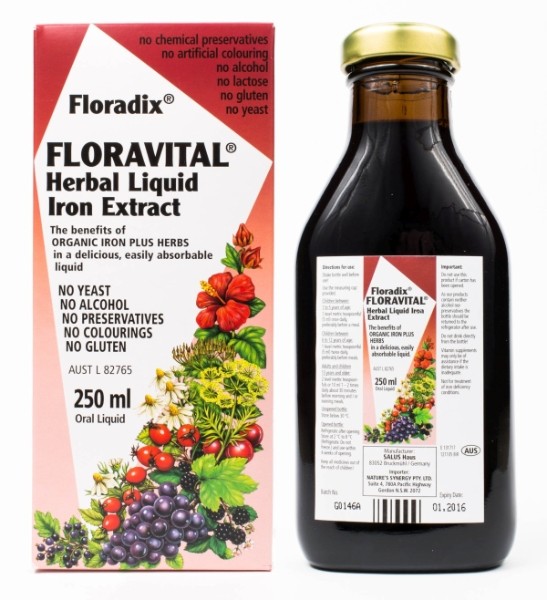 Weight: 0.61 kg.
Bought more than 50 times
Best Before 30.05.2025
Features
Information about product manufacturer
Manufacturer

Midsona Finland OY

Manufacture country

Germany
Product description
Iron-rich vitamin juice preparation for the need for additional energy and for those who follow special diets. Yeast-free, gluten-free and unsweetened, does not contain honey or citrus fruits. Contains well-absorbing, stomach-friendly iron gluconate (Fe2+), water extract from herbs, fruit juice concentrate and vitamins C, B1, B2, B6 and B12. Fruity fresh taste! Contains a little more iron, since the absorption of iron is weaker without yeast.
Dietary supplement. 20 ml Floravital contains 19 mg (136 %*) of iron. If haemoglobin is low, the dosage may be doubled. It is recommended to use 2-3 bottles per year. During pregnancy and lactation, the product can be used continuously. Ingredients: Herb water extract 70 % (Hibiscus sabdariffa), chamomile blossom (Matricaria recutita), fennel seed (Foeniculum vulgare), spinach leaf (Spinacia oleracea), mixture of fruit juice concentrates 27 % (grape, pear, black wine berry, cherry, blackberry, carrot), iron gluconate, rosehip extract, L-ascorbic acid, pyridoxin hydrochloride, sodium ricoblavin-5-phosphate, thiamine hydrochloride, cyanocobalamine.
Dosage: 10 ml 2 times a day about 30 min before eating Nutritional content / 20 ml: Energy 59 kJ / 14 kcal Fat .