Möller Tupla Omega-3 + ADE-vit.150 softgels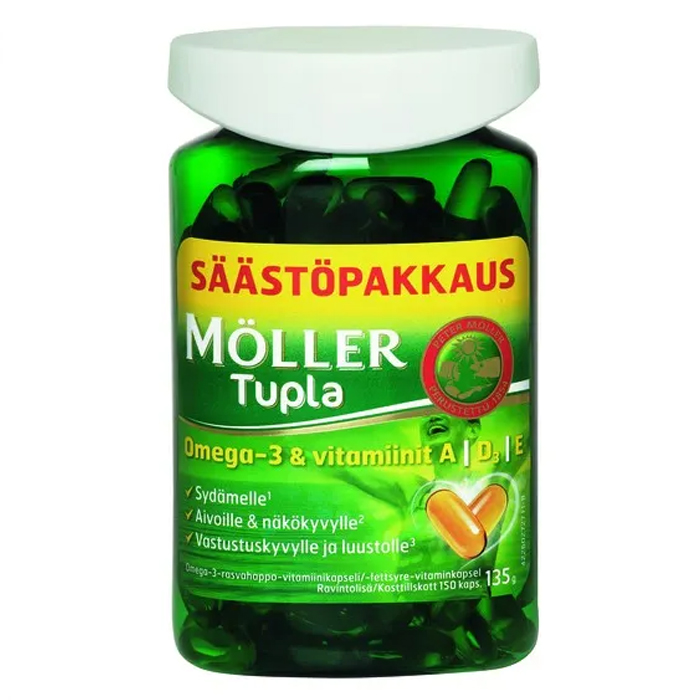 Product Code:

7070866011475

Weight: 0.17 kg.
Bought more 1249 once
Features
Information about product manufacturer
Manufacturer

Orkla Health

Manufacture country

Norway
Product description
Fish oil in capsules 150pcs. Möller - is concentrated fish oil in softgel capsules, enriched with vitamins. 2 capsules per day are enough to supply the need of vitamins A, D, E and Omega-3 fatty acids. Möller TUPLA is a great dietary supplement for people, who eat fish less than once a week or have fish allergies. Fish oil contains essential for human health OMEGA-3 fatty acids, and vitamins D, A, E.

Long-chain fatty acid Omega-3 are essential for heart and vascular health, and for brain activity. Vitamin D helps maintain strong muscle tissue, healthy bones and teeth. Vitamin A stimulates eyesight and immune system. Vitamin E is an antioxidant, which protects cells' membranes from oxidation. 

Daily dosage (2-3 softgels) contains: 

Omega-3 fatty acids 650-975mg

  in which EPA+DHA 540-810mg

Vitamin D3 10-15µg

Vitamin A 250-375µg

Vitamin E 10-15µg

Capsules are for swallowing not for chewing.

 

Made in Norway.

.