Ladyvita Sleep & Balance 60 pcs 48 g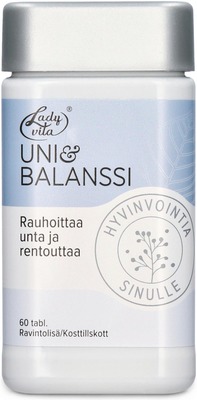 - 65%
Product Code:

5702071388821

Weight: 0.08 kg.
Bought more 387 once
Best Before 30.01.2023
€ 13.95
€ 4.88 (tax incl.)
Features
Information about product manufacturer
Manufacturer

Orkla Health

Manufacture country

Denmark
Product description
Ladyvita Uni & Balance is a dietary supplement with ingredients that promote good sleep, relax and soothe. Lemon balm promotes good and restful sleep. Lemon balm and saffron extract help support relaxation.

Ingredients: Lemon balm extract (Melissa ocinalis L.), fillers (dicalcium phosphate, cross-linked sodium carboxymethylcellulose), maltodextrin, chamomile extract (Matricariachamomilla L.), safflower extract, crocus sativus L., surface treatment agents (crocus sativus L.) ), pantothenic acid, medium chain fatty acids from coconut oil.

 Daily dose 1 tablet. Suitable for vegans.
Recommended daily dose for adults: 1 tablet

1 tablet contains:
Lemon balm extract 375 mg
- corresponding to 1500 mg of leaves
Chamomile extract 50 mg
Saffron extract 30 mg
Pantonic acid 6 mg (100 *%)
* RI = Intake benchmark

Not for women under 18 years of age, pregnant or breastfeeding. May cause drowsiness. Consult your doctor if you have concomitant medications that affect blood clotting.
The recommended daily dose should not be exceeded. The supplement is not a substitute for a varied and balanced diet or a healthy lifestyle. Keep out of reach of children.

Country of manufacture: Denmark